Hello City of Lodi!
Welcome to the inaugural edition of our electronic newsletter.

This monthly e-mail will keep you up-to-date on what's happening at the Square so you can plan those special activities with your friends and family.
---
ABACA String Band

The Lodi Community Concert Association presents this wonderful concert on Wednesday, March 3rd at 7:30 p.m. in the Performing Arts Theatre. General Seating tickets ($25) are available at the HSS Box Office or through the Lodi Community Concert Association at 209/368-9737.

---
First Friday Art Exhibit

Join the Lodi Arts Commission in the Thomas Theatre Gallery on the First Friday of March (the 5th) for the opening night reception for Anthony Montanino's "The Art of Jazz" show. Free admission, beverages & appetizers as always. Live music by the Young Sounds of San Joaquin (an honors high school jazz band) will accompany the evening's show. 6 to 9 p.m.
---
Paula West - Night Time Live Jazz Concert
"Pure elegance" was the headline in the San Francisco Chronicle recently. A regular headliner at the SF Jazz Festival, Paula has earned a reputation for being one of the classic songbook interpreters of recent years. Join us on Friday, March 5th in Kirst Hall for this exquisite jazz performance. Doors open at 6:30 p.m. for those wishing to enjoy a light supper (a la carte) and the concert begins at 7:30 p.m. Reserved Seating tickets: $20/$25.
---
Oakland Jazz Choir - Night Time Live Jazz

This choir is a swinging group of dedicated singers who have come together from their deverse backgrounds to preserve and perform one of the most inspiring art forms -- jazz! Their own rhythm section will accompany this 30+ voice choir. Doors open at 6:30 p.m. for those who want to enjoy a light supper before the show. Concert begins at 7:30 p.m. Reserved seating tickets: $20/$25.
---
Stockton Symphony's Symphonic Hall of Fame

Presented by Lodi Friends of the Stockton Symphony, this concert will delight your entire family. In the Performing Arts Theatre, Saturday, March 20th at 7:30 p.m. (kids' hands-on program at 6:30 p.m.). Tickets: $5 for adults; children 18 & under FREE! General admission tickets are only available at the HSS Box Office (not online).

---
Local Arts Conference: March 22nd
This first-ever all day conference sponsored by the Arts Commission will bring together community arts agencies, artists, cultural leaders, educators, business partners and other interested individuals to examine current trends (receive a complete report on the commission's community needs assessment); learn new marketing skills, and develop relationships with their colleagues within and around the City of Lodi. Registration is only $39 (before Mar. 19).
---
David Crosby in Concert!

A two-time inductee in the Rock and Roll Hall of Fame, David Crosby (of Crosby, Stills, Nash & Young) and his band, CPR, will perform on Thursday, March 25th. Tickets for the event are on sale now ($50 each) at the Box Office, 333-5550; or on-line at www.hutchinsstreetsquare.com.
---
Camp Hutchins Adds Transport Service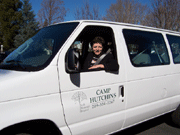 Camp Hutchins Day Care, owned and operated by Lodi Memorial Hospital and located at Hutchins Street Square, is now transporting kindergartners to and from school. A recently purchased van will now pick-up/drop off from the following elementary schools: Reese, Lakewood and very soon Vinewood. This is in addition to caring for school age children while off track. For further information please contact Cindy or Jill at 334-2267. Stay tuned for our Summer Camp information.
---
Enrollment Begins for Childrens' Summer Theatre Program

This 7-week intensive theatre workshop, directed by Robert Krantz, welcomes local youth into the richly rewarding world of live theatre. The first 50 children to register are accepted into the program and students will learn all aspects of the theatre -- including how to work things behind the scenes. Students must be between the ages of 8 and 18. This summer, the cast will perform "The Three Musketeers." Workshops begin June 21, culminating with performances on August 6, 7 & 8. To receive more information and a registration packet, call the Division of Arts & Culture at 333-5511.
---
Lifeguard Training Offered
Two Red Cross Lifeguard Training Courses will be offered in March and April. Those who complete the course will receive Lifeguard Training, CPR for the professional Rescuer, and Basic First Aid Certificates.

The first 7-day course begins March 2 and the second session begins March 23. The cost is $158.00 and includes certificates, Lifeguard training book and resuscitation mask. Class participants must be at least 15 years old.

For more information, or to enroll in either of the sessions, please call the Senior Center at 369-6921.

---
Thank you for taking a moment with us. We will continue to provide you valuable information as well as monthly community announcements.

Sincerely,
--The Team at Hutchins St. Square
---
You are receiving this email because you requested to receive info and updates via email.

To unsubscribe, reply to this email with "unsubscribe" in the subject or simply click on the following link: Unsubscribe